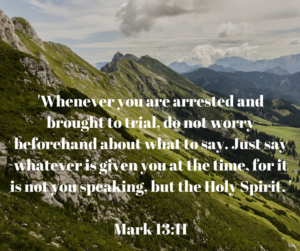 In todays New Testament reading, we find Jesus speaking a great deal about the end times, and his return. For many, this talk seems to scare them as they think of the judgments upon the earth and everything that may happen. I believe as Christians, while the events that may unfold may be scary, we should find hope in the fact that Jesus is returning and what a miraculous even that will be.
However, in todays verse I want to look at the time he tells us about standing in front of rulers and the Holy Spirit giving us the exact words to speak. If you notice, this is exactly what happened with Stephen right before his death in Acts 7. When confronted the Holy Spirit spoke through him and gave him exactly what to say in that situation.
I believe the Holy Spirit works in the same way when it comes to sharing our faith with our co-workers, family, and friends. In those moments, when we step out on faith, we will begin to recall scripture we have read, we will begin to have the exact words we need to get through to these people. It takes our faith to take the first step to begin to speak to them.
Easter is approaching us quickly, and through many different studies, you will see that over 80% of people would come to church if they were just invited. Today is the day to begin to invite them, not just to Easter service, but to every service before then. Who do you need to call today and ask them to join you at church? Who in your office do you need to talk to? I know you have done it before, but don't give up. Keep asking.