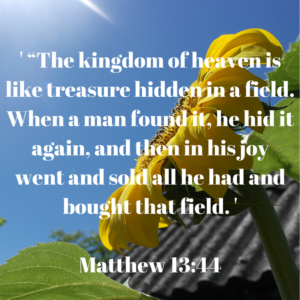 Sometimes when I read this verse, I just keep moving forward without much thought. Today, as I read the verse it almost stopped me in my tracks because I realized the implications of it and begun to question my heart for the Kingdom of God.
Jesus tells us the Kingdom of God is so great, that when a man discovers it, he loves it so much and his joy overcomes him that He sells everything he has to go back after it. I have a friend that preaches and speaks about Joy; Jennifer and I just named our daughter, JoyHannah, and it made me think, does the Kingdom of God truly bring me joy, and then, does it bring me so much joy that I forsake everything else to attain it?
As a pastor, people often think it is much easier to stand on the side of joy and confidence in the Kingdom, and I am not going to try to argue as a pastor we do have much more time and energy we are allowed to put into the Kingdom than an average person would claim. However, we do often see the worst in people's lives, this isn't a complaint, this is just a fact. Very rarely do you get the calls of people who are joyous because they have read their Bible every day and their relationship with the Lord is growing. Instead, we get the calls from people whose marriage is breaking apart and they want to leave everything. I love walking through people in those hard times, but sometimes it is easy to lose sight of joy.
Its also easy to see people that come to church and their countenance never changes. They come in, sit through a sermon, a worship service, and leave the same way they walked in – the weight of the world weighing them down. Even after having an encounter with Jesus, they have no new joy.
As I read this verse I realize this isn't the way it should be for us, for me, for you. When we encounter Jesus, when we encounter the Kingdom of Heaven we should have JOY. We should have so much joy that we want to give up everything and follow after it.
Today, is the opportunity to choose joy. Yes, choose joy, and listen I am talking to myself today as well. We have to choose joy. When we encounter Jesus, when we encounter the miraculous things he is doing and has done, there is no greater joy. It doesn't get any better than those blessings, so choose to be happy as we run after Him.